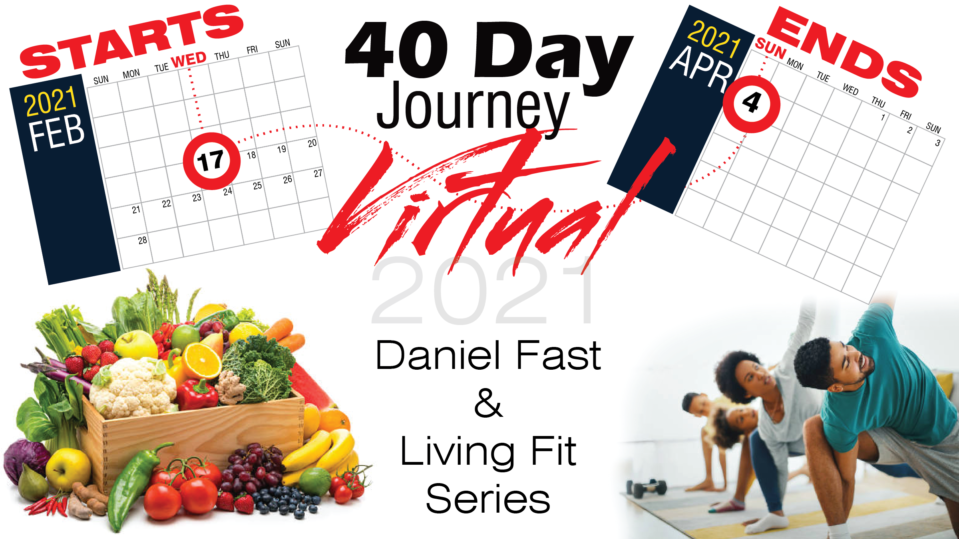 40 Day Journey & Daniel Fast
February 17, 2021 – April 4, 2021
40 Days of Prayer and Fasting
Our family and friends are encouraged to take this journey during the season of Lent. This is a time we as Christians mature spiritually the 40 days before Resurrection Sunday.
The Daniel Fast begins Ash Wednesday, February 17, 2021 and ends on Resurrection Sunday, April 4, 2021. Our common practice is 6 days on and 1 day off.
During this time ask God:
instill in you a personal revival of prayer & service
help our family love, appreciate, respect and value one another
to mature Enon for a greater flow of the Holy Spirit
reveal to us our "cause/fight" for our community with purpose to fulfill God's will in line with His Word
The Daniel Fast 
The Daniel Fast restricts normal food intake by eliminating many foods commonly eaten to satisfy our appetites. During the Daniel Fast you will experience a sense of hunger and a sense of sacrifice. The Daniel Fast embodies a faith walk in which Daniel teaches us that commitment and sacrifice that honor God will transform our lives.
Thinking and acting with a worldly view may consume us with fear and doubt. Daniel, Hananiah, Mishael and Azariah overcame this worldly view by challenging the chief official of king Nebuchadnezzar. They refused to eat the King's food, choosing instead to adopt a diet of fruits, vegetables and water (Daniel 1).
Daniel's experience provides us with a powerful lesson that spiritual fasting and prayer empower us to seek after those things we deem impossible but are a reality when we walk with Christ! Simply, this journey is a return to Eden, where fruits, vegetables and whole grains nourished the temple of God.