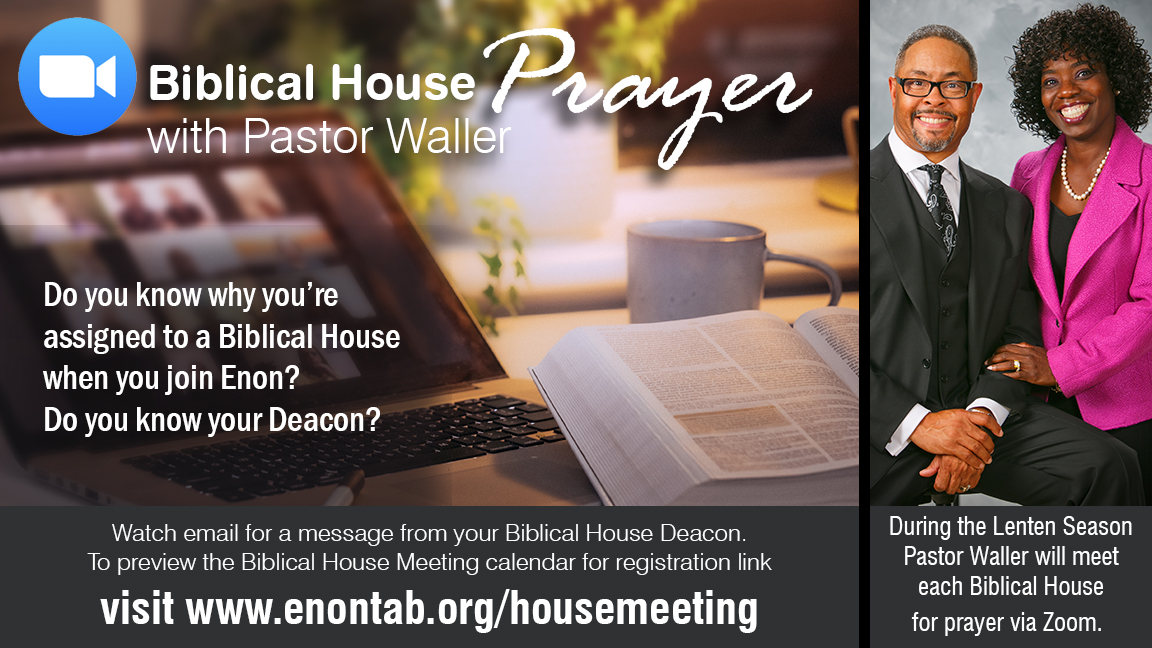 Biblical House Meeting
Enon members, pray with Pastor Waller and your Biblical House family.
For the first time, we are not able to come together in-person during the Lenten season. Because of that, Pastor Waller would like to meet with members through our Biblical House structure. Here at Enon, the Biblical House ministry provides lay leadership to help meet the needs of the Congregation by reducing one large Church into several smaller houses.
There are presently 63 Biblical Houses, with an average of 225 people in each. Each Biblical House leadership team, consists of a Deacon, Deaconess, Deacon Aide and Congregational Care Giver (CCG).
Family you do not want to miss this time of prayer with Pastor and your Deacon! All meetings are virtual. House members may join via video conference or by telephone. Invitation will be emailed at least a week in advance of your meeting. If your email address in not on record with the church, please be sure to subscribe to https://enontab.flocknote.com or call the church office 215-276-7200. Check the calendar below for your Biblical House Meeting and registration link.
Meeting Period: Ash Wednesday, February 17th through Resurrection Sunday, April 4th, 2021
Registration is required
Biblical House meetings are for ETBC members only
If you do not know your Biblical House please contact the Church Office 215-276-7200
Meeting link is unique to member registered
Zoom app or client is recommended for best experience, but not required